Golf
Opened in 1971, the golf course was designed by Raymond F. Loving, Jr. The result is an enjoyable challenge to golfers of all skill levels. The 18-hole championship course is located in the beautiful foothills of the Blue Ridge Mountains.

Members may access the driving range as well as our practice green. Members may also take advantage of our comprehensive member tournament program, as well as Men's and Women's Golf Associations programs. Hunting Hills PGA Golf Director of Golf, Jordan Ryan, offers lessons to golfers of all ages and year-round junior programming through US Kid's Golf.
Practice Range
Practice Putting Green
Overlook Hole #10
Women's Golf Association (WGA)
The ladies are golfing at Hunting Hills Country Club, so come out and enjoy the game. The Hunting Hills Women's Golf Association offers a morning league on Tuesday at 8:30am and an evening league on Wednesday at 5:30pm. Leagues start at the beginning of April and run till the end of October. All ladies are invited to participate in the fun regardless of skill level. The league dues are $50 annually to support the season's activities. Ladies interested in participating in tournaments and/or outings must establish a GHIN handicap (ask the Golf Shop for details).
In addition to regular play, we also host special events, outings, games, and social gatherings throughout the season. These events include a Women's Member-Guest, the Club Championship, an overnight golf trip in late Spring, and a day trip each Fall.
Additionally, association members also have the opportunity to participate in Invitational Golf Outings at various clubs in Roanoke, Salem, Lexington, and Smith Mountain Lake. These events are a great opportunity to play at the various courses, see acquaintances and make new ones.
For more information about WGA please contact
WGA President, Janet Scott at scottjanet9@gmail.com
Men's Golf Association (MGA)
The Hunting Hill's Men's Golf Association) was founded with the intent of forming a lasting organization dedicated to promoting the game of golf here at Hunting Hills. The organization has evolved over the last few years and has grown to over 40 members, with handicaps that range from +3.4 to over 30.
The HHCC MGA is open to golfers of all abilities. Our events and functions are designed to make all members feel welcome. When you sign up in the Golf Shop for MGA play, you never know who you will be playing with. As a new member, it is the ideal way to get to know other members.
The MGA organizes multiple golfing events throughout the year. The Monthly MGA play is held every other Thursday night from April through October with dinner following each event. Several club tournaments throughout the year also count towards your overall MGA points. These events range from simple weekend stroke play matches to two- & four-man team events with a variety of formats. MGA dues are $100 annually and are paid out as prizes throughout the season.
For more information about MGA please contact
the Golf Shop at 540-774-4435, Option 1
---
Jordan Ryan, PGA Director of Golf
Jordan is an accomplished PGA Golf Professional with over 13 years of industry experience. Jordan was most recently the Head Golf Professional at Augustine Golf Club in Stafford, VA and has worked in the Roanoke Valley golf industry for four years as a First Assistant. Working in both the public and private sector, we feel that Jordan's leadership skills, knowledge and work experience will strengthen our golf operations. Jordan is passionate about creating new and exciting Junior Golf programs as well as working with our WGA and MGA.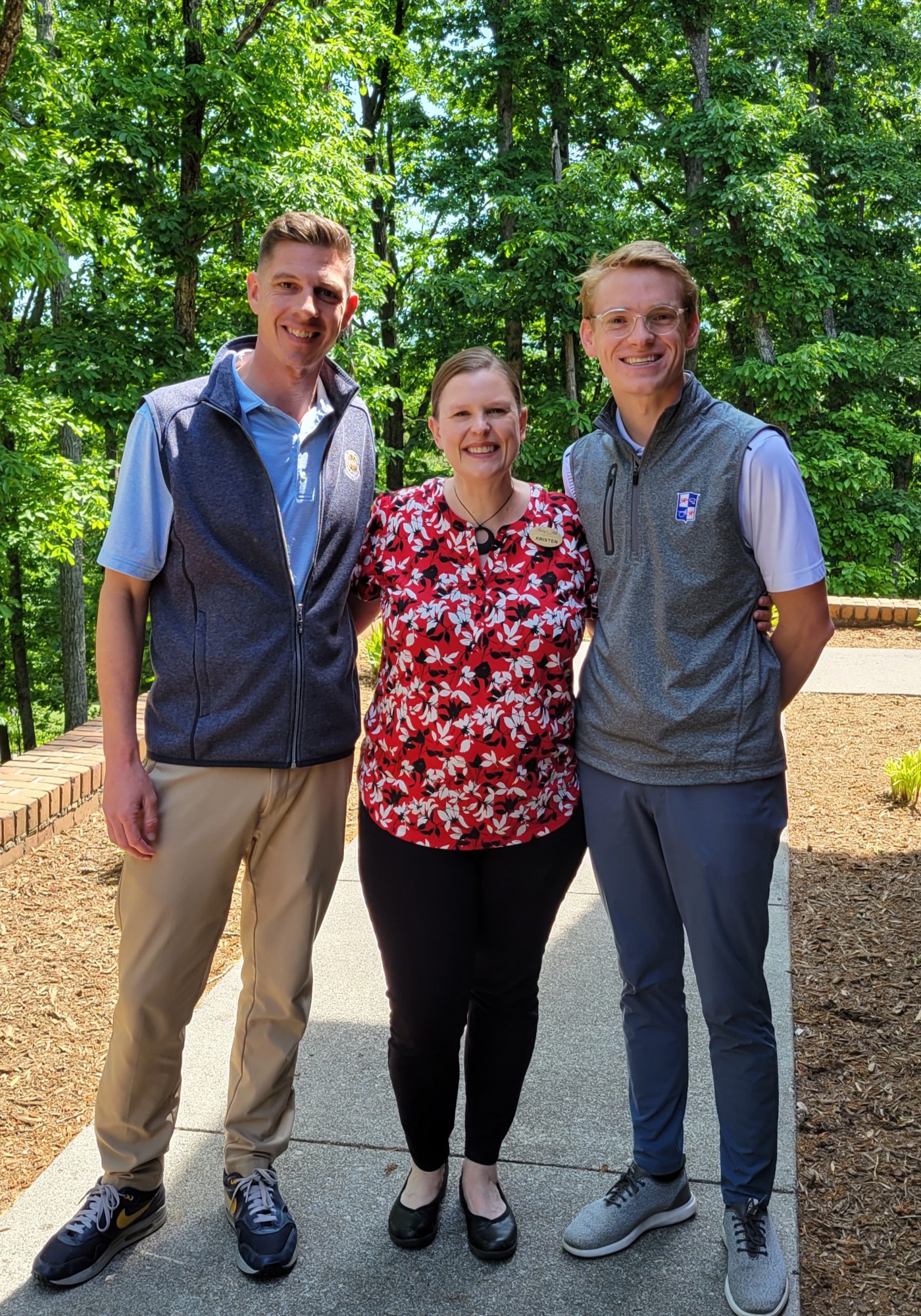 Jordan Ryan, Kristen Todd & Hill Donihe
Hill Donihe, Assistant Golf Professional
Hill is a Roanoke native, he was raised in the Raleigh Court neighborhood. He had a golf club in his hand the day he could walk and hasn't let go since. Growing up, Hill was a regular in local junior tournaments as well as the U.S. Kids tour events. In high school, he played golf for Patrick Henry. He then went on to play two years of golf at Hampden-Sydney College where he graduated in 2018.
Hill is very excited to pursue a career in the golf industry, with the intention of becoming a PGA professional. As a golf professional, Hill's goal is to help grow the game of golf in the Roanoke Valley and dreams of seeing Roanoke as a hub for exceptional golfers of all ages.