Event Space
Celebrate life's occasions with us -
Experience the timeless charm of Hunting Hills Country Club nestled in the picturesque Blue Ridge Mountains of Southwestern Virginia. Our exquisite venue boasts rustic elegance with high ceilings, captivating brick fireplaces, expansive picture windows, and enchanting patios, creating a perfect setting for your special event. Whether you're planning a wedding, celebration, or corporate gathering, our dedicated team is ready to assist you.
Booking an event is easy – simply contact our team at events@huntinghillscc.com or call 540-774-4435, Option 8. Notably, membership is not a prerequisite to host an event with us. Unveil the beauty of your occasion against the stunning backdrop of Hunting Hills Country Club.
---
Business Gatherings
Hunting Hills Country Club stands as Roanoke's premier venue for exceptional special events. Ideal for corporate purposes, our establishment serves as an impeccable retreat for your Board, Training, or Regional Meetings. Our versatile meeting rooms accommodate groups of various sizes, while our commitment to superior food quality ensures a memorable experience.
Conveniently situated with rapid access from 581 and 419, and offering ample free parking, we are located just 10 minutes away from downtown and several bustling business districts. Elevate your event with the perfect blend of convenience and elegance at Hunting Hills Country Club.
Social Gatherings
From proms and engagement parties to sports celebrations, golf outings, and family or class reunions, every occasion deserves a special touch. At our venue, we offer the ideal space for a spectrum of events, including bridal showers, baby showers, and rehearsal dinners. Our chef is dedicated to collaborating with you to craft a personalized menu that enhances the uniqueness of your event.
Whether you're contemplating an upcoming celebration or just beginning the planning process, reach out to us for a personalized tour and a complimentary consultation. Let us transform your vision into a memorable reality.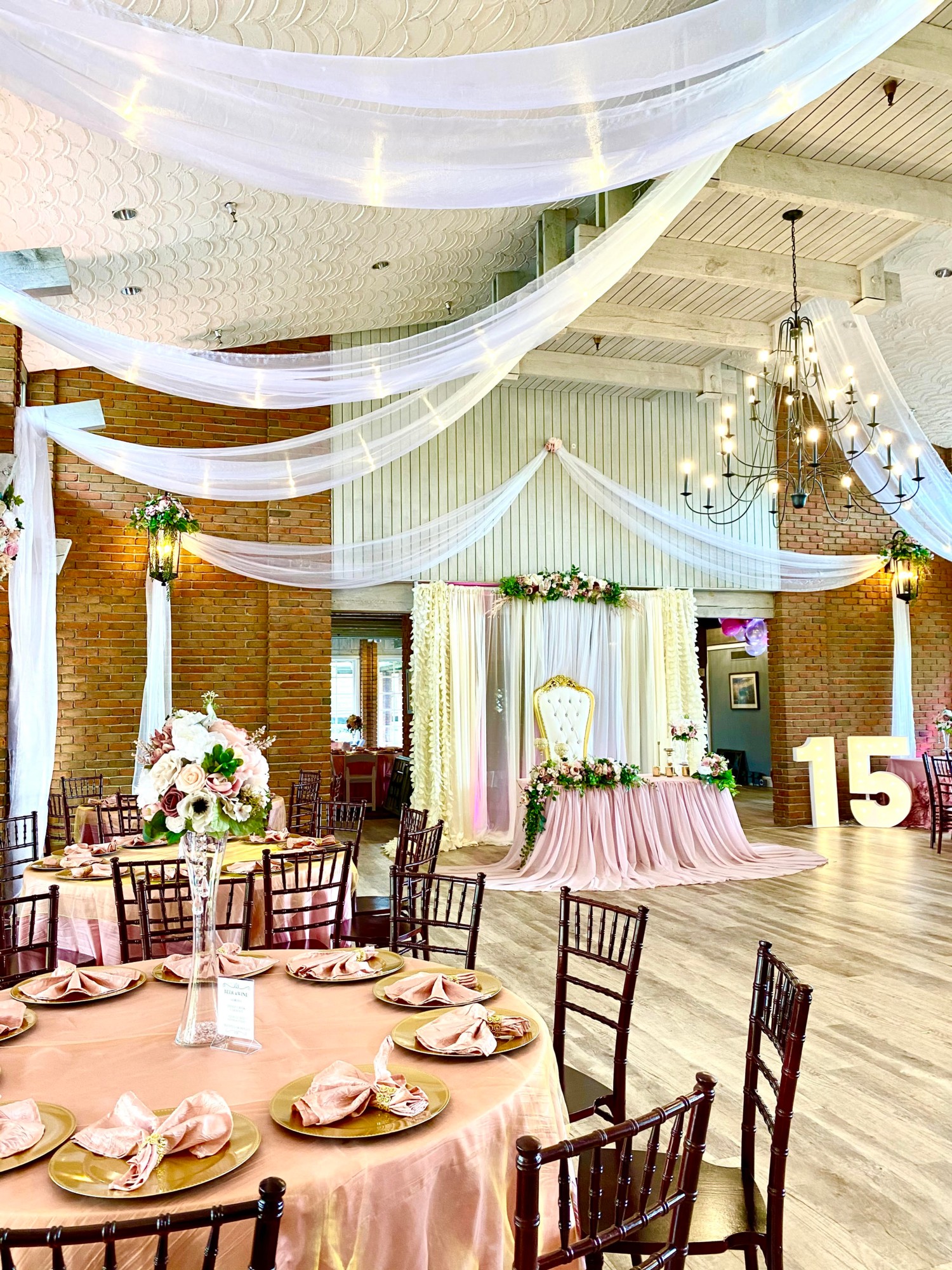 At Hunting Hills Country Club, our dedicated staff is committed to ensuring that your event surpasses all expectations. We take immense pride in delivering an exceptional experience. Feel free to give us a call to explore the possibilities of hosting your event at our exquisite facility. Importantly, membership is not a prerequisite for booking events or weddings with us. Contact us at 540-774-4435, and let us assist you in planning your next business or social outing at Hunting Hills Country Club. Your exceptional event begins with us.
---
EVENT SPACES
The Ballroom
Step into elegance at our Ballroom, featuring expansive windows that flood the space with natural light, a breathtaking view, and stunning brick accents. Whether it's a dinner party, wedding reception, class reunion, or corporate event, this versatile room sets the stage for unforgettable gatherings. Accommodating up to 150 guests, it's the perfect canvas for creating cherished memories with your closest family and friends. Elevate your event experience in our enchanting Ballroom.
The Ballroom
---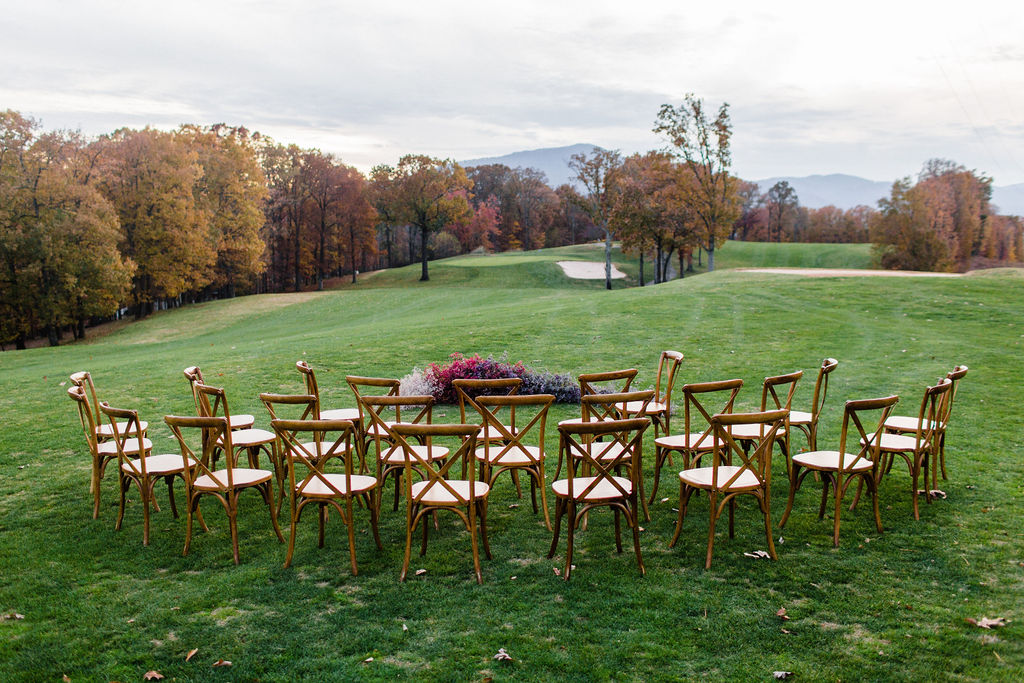 The Course
The Course
Nestled within our exquisite grounds, our beautiful golf course provides an idyllic backdrop for both your dream wedding ceremony and dynamic golf tournaments. Boasting an 18-hole championship layout, our course caters seamlessly to outings, offering challenges and opportunities for players of every skill level. The shorter course design ensures a dynamic experience while maintaining a steady pace of play.
What sets us apart is not just our exceptional course but the elevated Country Club atmosphere we offer. This unique ambiance allows us to surpass the competition by enhancing event quality and providing flexibility with event dates. Discover a perfect blend of scenic beauty and sporting excellence at our distinguished venue.
---
The Patio
Elevate your events to new heights on our expansive patio, offering panoramic views of the breathtaking Blue Ridge Mountains. Whether it's an enchanting outdoor wedding ceremony, a starlit dinner, or a corporate or charity golf tournament luncheon, this versatile space is designed to exceed your expectations. With a generous capacity for up to 300 guests, our patio ensures a memorable experience in any weather, thanks to the option of tenting in case of unfavorable conditions. Immerse yourself in the beauty of nature while enjoying the flexibility and grandeur of our picturesque venue.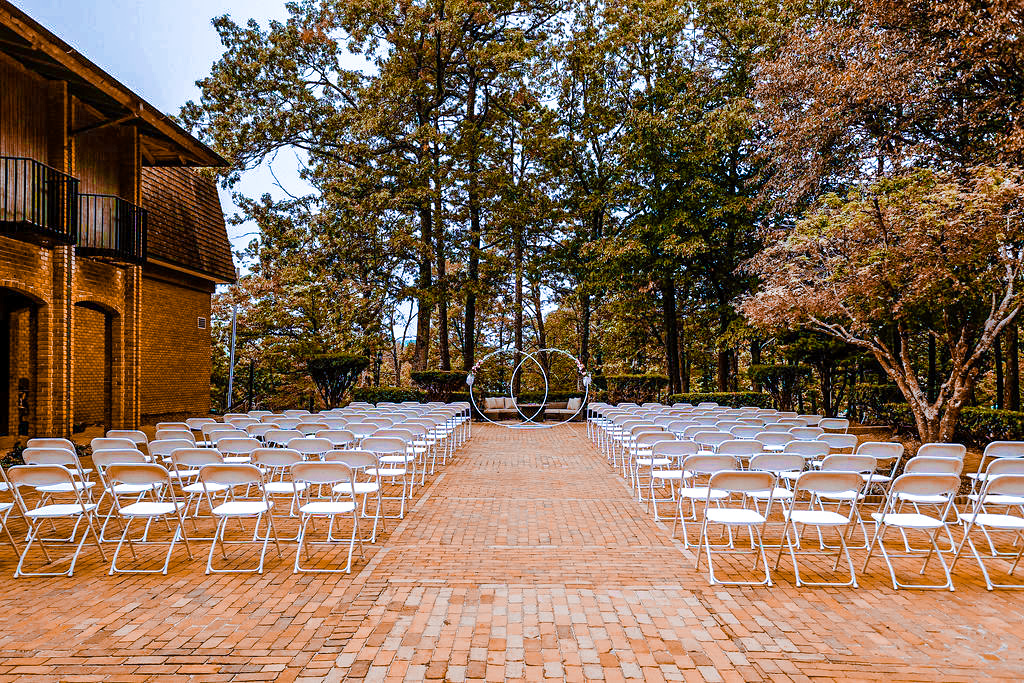 The Patio
---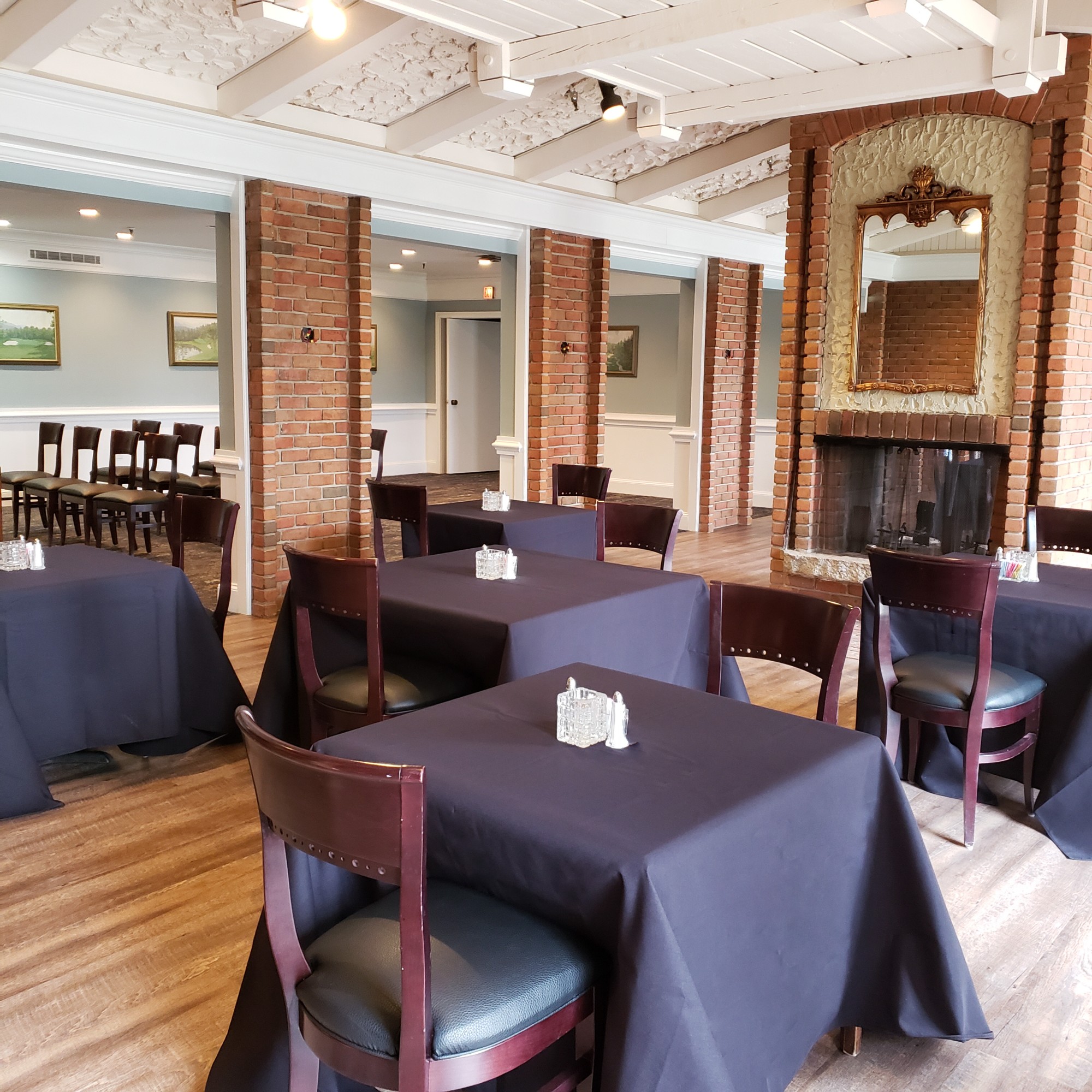 The Clubroom
The Clubroom
Discover our exclusive private room, perfect for intimate gatherings or corporate meetings. Elevate your experience with state-of-the-art A/V equipment, including an A/V tower, projector, screen, microphones (lapel, handheld), speakers, and Wi-Fi connectivity. Tailored for your convenience, this space seamlessly combines functionality with sophistication, ensuring a seamless and impactful environment for your smaller events or corporate discussions. Immerse yourself in a space where technology meets refinement for an unparalleled meeting experience.
The Clubroom
---
The Hills
Indulge in the inviting ambiance of our bar and lounge, known as The Hills! Immerse yourself in the vibrant atmosphere every Friday Night Live, where local musicians take the stage from 6:30 to 9:30 pm. Beyond the live music, The Hills is a versatile space perfect for hosting your cocktail hour or intimate gatherings of up to 50 people. Elevate your evenings with the perfect blend of music, style, and socializing at The Hills. Please note that a food minimum is required to rent this space for a private event.

The Hills

The Hills
For further detail on our event spaces, please email events@huntinghillscc.com