Tennis
Facilities
The Tennis Facility at Hunting Hills Country Club is first-rate. The two indoor cushioned courts have a tournament-level LED lighting system with backlights and a reflective puncture-resistant ceiling. Outside, the facility offers four lighted hard courts and four Har-Tru (clay) courts. Our ladies' and gentlemen's locker rooms are designed with wooden lockers and feature shower and dressing room areas.
The Tennis Facility is open seven days a week. Helping members to improve their game and enjoy "The Sport of a Lifetime" is the main goal of our Tennis Professionals.
Indoor Tennis Facility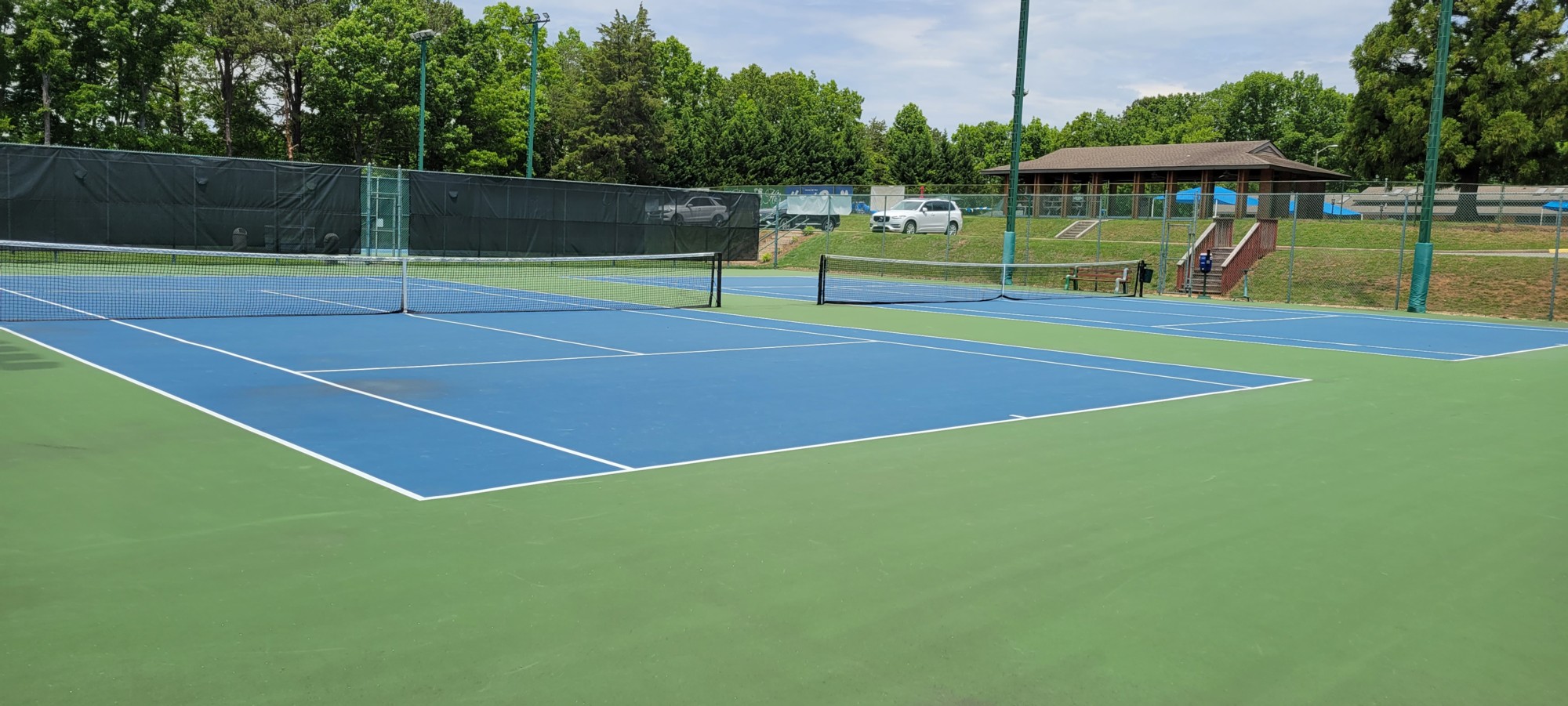 Outdoor Hard Courts
Outdoor Clay Courts
Activities
For more information and to register for activities, contact the tennis shop John Barker (540)-580-7780 or Thomas Hall (901)-828-2168
Tennis
Monday
Ladies 4.0 Clinic: 5:30-6:30pm
Advanced Junior Live Ball Clinic (12 - 18 years old): 4:30pm - 6pm
Tuesday
Adult Advanced Clinic 3.5/4.0: 11:30am-12:45pm
Wednesday
Adult Beginner & Intermediate Clinic: 11:30am-12:45pm
Thursday
Advanced Junior Live Ball Clinic (12 - 18 years old): 4pm - 5:30pm
Friday
Adult Cardio Clinic "Hit to get fit!" - 10:30am to 11:30am
Advanced Junior Live Ball Clinic (12 - 18 years old): 4:30pm - 6pm
Sunday
High School Clinic (12 - 18 years old): 4pm-5:30pm
Pickleball Lessons
Call to inquire about pricing for Pickleball Lessons and pricing
Summer Academy
June through August
Monday through Thursday each week during select weeks
4-6pm each day
Member Cost - $35 a day or $120 per week
Non-member cost - $45 a day or $170 a week
*Must be able to rally and keep score with yellow ball
Tennis Pro Shop
Visit the tennis pro shop or call John Barker (540)-580-7780 or Thomas Hall (901)-828-2168 to satisfy all your tennis needs including equipment purchasing and service.
The Hunting Hills Tennis Program is designed by our two USPTA certified professionals, John Barker and Thomas Hall, to accommodate all ages and ability levels. Our Tennis Professionals conduct adult and junior clinics, offer lessons (both group and private, including video instruction), and an outstanding junior program. In addition, they organize and direct many tournaments including the American Heart Association Tournament and several USTA sanctioned events.
---
Thomas Hall- Head Tennis Professional
Thomas is USPTA Certified Teaching Professional with five years of professional experience and two years of collegiate tennis experience. Born in Richmond, Thomas spent 8 years in Memphis, Tennessee attending school and working before joining us at HHCC. Thomas spent two years at Northwest Mississippi Junior College before receiving his Bachelor's degree in Fine Arts from the University of Memphis. Thomas spent the first 3 years of his teaching career at the Country Club of Memphis, which has been repeatedly voted as one of the top 10 Country Clubs in the country. He spent his first two years at MCC as an assistant and quickly worked his way to being a teaching professional on staff. Thomas spent his last year in Memphis running a public tennis center for a non-profit organization as well as coaching in a high-performance academy directed by world-renowned coach Steve Smith. Thomas specializes in high-performance juniors as well as technical work for players of all ages.
Phone: (901)828-2168
Email: thall@huntinghillscc.com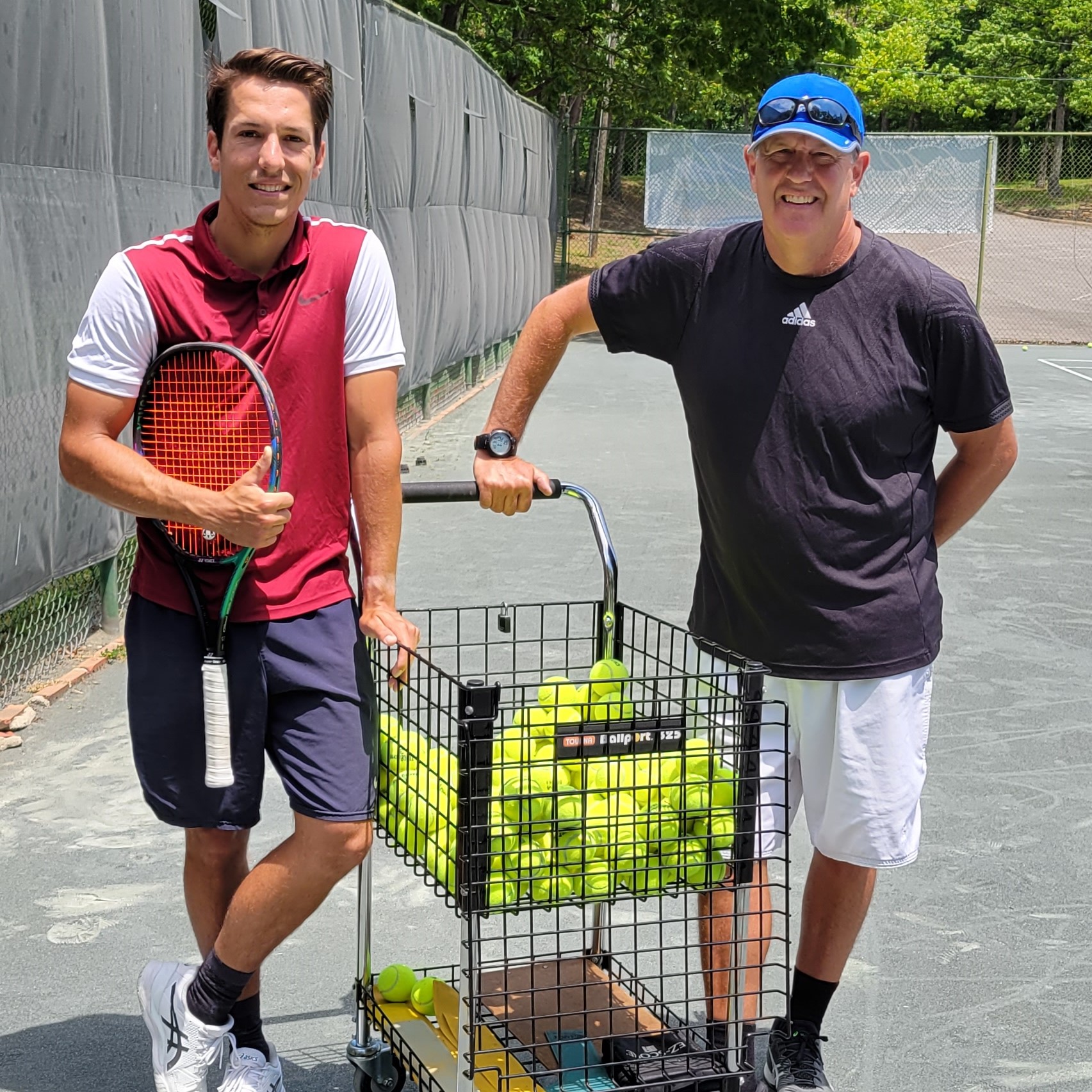 John Barker- Director of Tennis
John is a USPTA Certified Head Tennis Professional and Lifetime USTA Member. He came to Hunting Hills in 1987 as an Assistant Pro and has been the Head Professional and Director of Tennis since 1991. He graduated with honors from Radford University where he played NO.1 his senior year on the Division I Men's Tennis team.
He has coached many top college-level players and has taught the best tennis player ever to come out of Roanoke, K.J. Hippensteel, who reached a career-high #150 world ranking. John has continued his own playing career and has received the Mid-Atlantic USPTA 35 and Over Player of the Year three times, most recently in 2006.
Phone:(540)580-7780
Email: jhbarker5@gmail.com