Aquatics
Hunting Hills is home to a 25-meter, 8-lane, heated swimming pool that features a 12-foot diving basin with a diving board and two water slides. Our pool is typically open from mid-May thru mid-September each season for recreational swimming and early May thru September 30th for lap swimming. Opening and closing dates are subject to change depending on weather and staffing.
An adjoining wading pool is on the grounds for the safety and pleasure of little swimmers. The recreational atmosphere is highlighted by a spacious, covered pavilion, patio, and lawn area, perfect for fun and relaxation.
Our full-service poolside grill is open every day of the week to provide our members with the best in Poolside Dining. Our comprehensive menu features hot entrees, salads, light snacks, and ice cream. A full bar is also available, including a delicious cocktail menu, wines by the glass, and a wide selection of beers.
Certified lifeguards are always on duty and swimming lessons are routinely offered. If your child has a caregiver who will accompany them to the pool, please inquire about our Nanny Pass!
The pool water is an environmentally-friendly saline and chlorine solution.
Pool Hours - May 19th-September
Monday- Thursday 10am-8pm
Friday 10am-9pm
Saturday 10am-8pm
Sunday- 12-7pm
Memberships Starting as low as $175 per month (annually)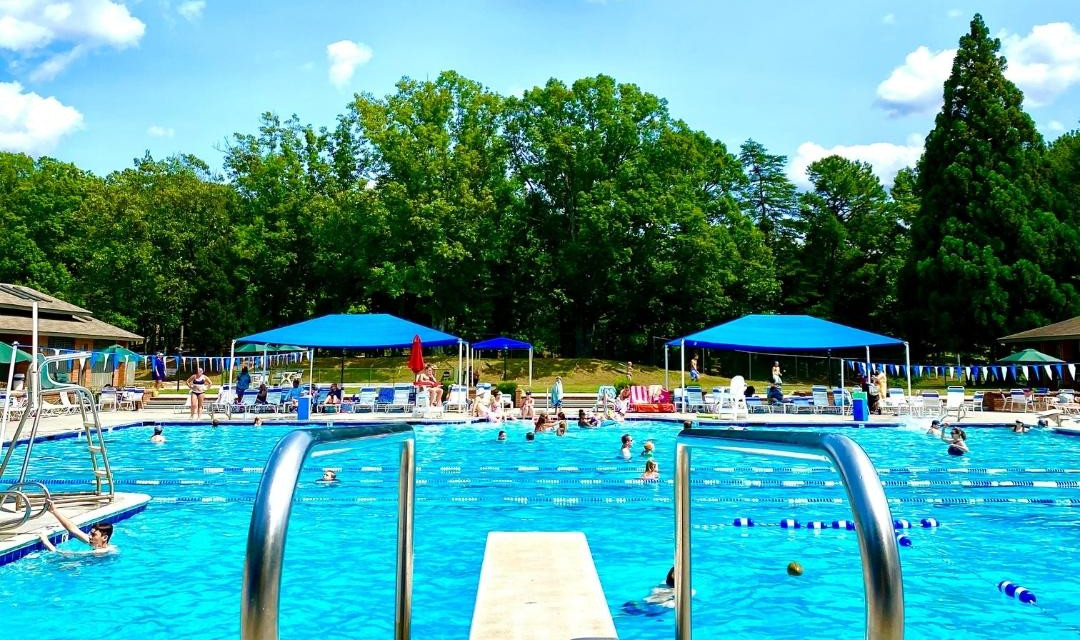 ---
Hound Dog Swim Team
The Hunting Hills Country Club Hound Dog swim team capped off their undefeated 2019 season by taking home the overall title at The City/County Championship. This marks the seventh-straight title for the Hound Dogs as well as their 17th title in the last 18 years.
The Hunting Hills Country Club Hound Dog swim team is open to all HHCC members looking for a fun, competitive avenue to becoming a better swimmer. Swimmers will learn how to properly swim every stroke with the help of coaches. The swim team is a fun, encouraging way for all members to make lasting summer memories.
For information about the 2022 Swim Team please email: huntinghillsswimteam@gmail.com
Click Here to register for Swim Team
2022 Hound Dog Team Photo
2023 Swim Meet Schedule
Monday, June 12, 2023
Monday, June 19, 2023
Monday, June 26 2023
Monday, July 3 2023
Monday, July 10, 2023
Monday July 17, 2023
City/County Championship Meet
Friday & Saturday, July 28, 29, 2023
2023 Swim Team Practice Schedule
Pre-Season (May 22 - June 1)
Monday - Thursday Evenings
8 & Under: 6 PM
9 & Up and Adults: 7 PM
No practice on Memorial Day
Starting June 1st

Mon, Wed & Friday Mornings
8am-9am : 8 & under
9am-10am : 9 & up
Tuesday & Thursday Evenings
6pm-7pm : 8 & under
7pm-8pm : 9 & up
No practice on the 4th of July
Kick Off Meeting May 3rd, 2023 at Hunting Hills Country Club
---
Hound Dog Report
---