Membership
Please take the time to explore our membership information below. We encourage potential members to schedule a tour by calling 540-774-445, Option 6.
---
---
Embark on a journey of recreation, camaraderie, and excellence by joining Hunting Hills Country Club—the "best and most affordable" country club membership in the Roanoke Valley. With a rich legacy spanning over 50 years, our club stands as a distinguished destination for golf, tennis, swimming, dining, and fostering meaningful connections.
Immerse yourself in a family-friendly environment where the benefits are as abundant as the memories you'll create. We extend a warm invitation for you and your family to experience our club firsthand through a personalized tour, providing a glimpse into the outstanding recreational and dining offerings that await you.
For golf and tennis enthusiasts, our certified professionals curate an unparalleled experience with full-service pro shops, offering lesson packages, monthly clinics, and a diverse array of tournaments. Our annual schedule is teeming with Junior Events, Sports Camps, Men's and Women's League play, and the RVAA Champion Hound Dog Swim Team, boasting sixteen titles in the last eighteen years. With PGA Professional Jordan Ryan leading junior golf instruction and Tennis Professional John Barker at the helm of outstanding tennis programming, we stand as a premier youth instruction club.
Experience a year-round calendar of special events, including entertaining evenings, theme parties, socials, seminars, holiday celebrations, and family activities. Our graceful facility, adorned with high ceilings, brick fireplaces, picture windows, magnificent patios, and an award-winning golf course and tennis complex, sets the stage for unforgettable moments. Relish fine cuisine and renowned quality at all our dining outlets, with Kid's Club services available throughout the week, offering flexibility for family or couple time.
Should you desire to host a meeting or special event, our dedicated event team is at your service, ensuring seamless execution for golf outings, receptions, meetings, and social functions. Connect with our event team at events@huntinghillscc.com or call 540-774-4435, Option 8.
We eagerly await the opportunity to serve you. For further membership details, contact the Clubhouse at 540-774-4435, Option 6, or email sarah@huntinghillscc.com. Welcome to a world where excellence meets camaraderie at Hunting Hills Country Club.
Club Newsletters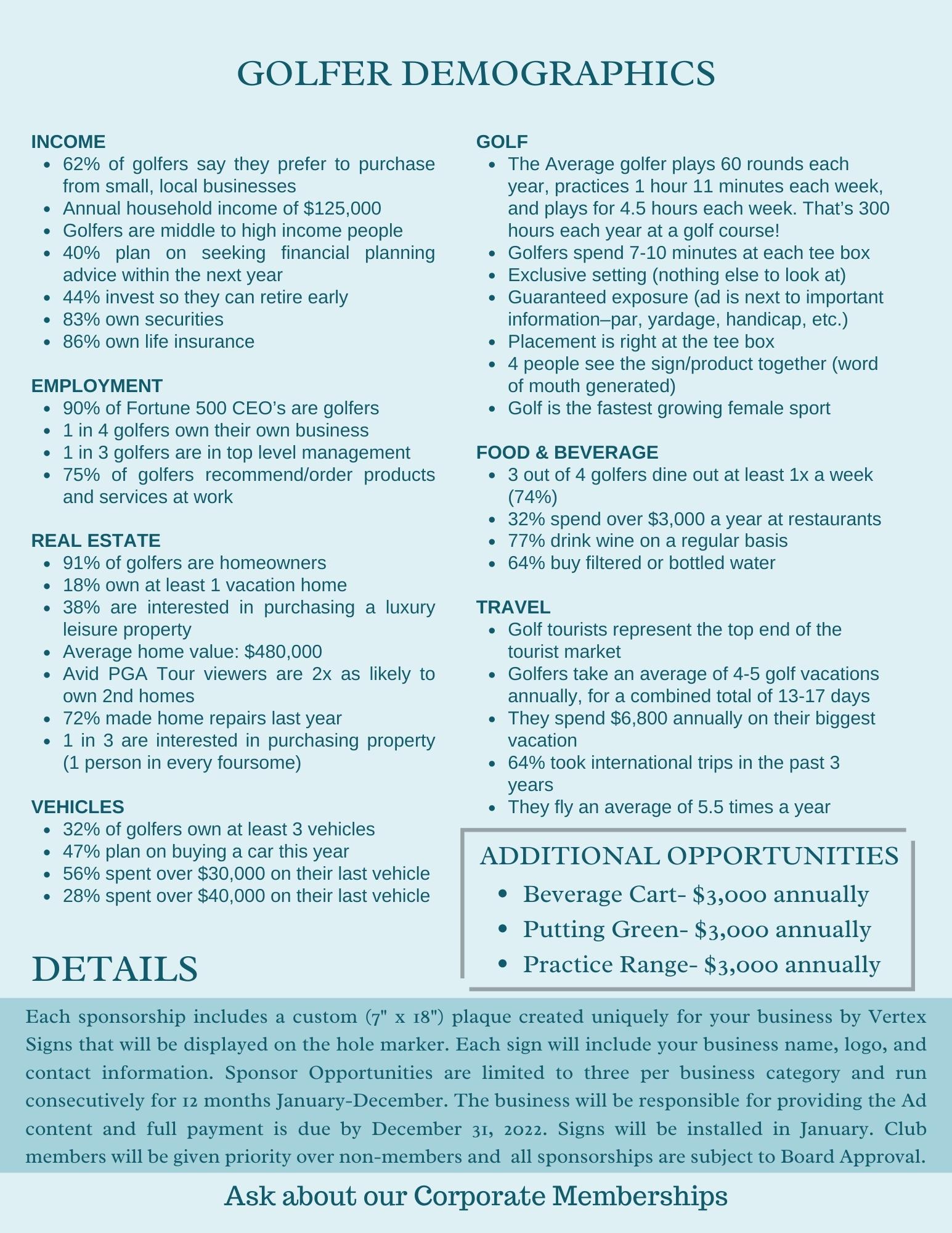 November 2, 2022
MEMORANDUM REGARDING HHCC NEW MEMBERSHIP CRITERIA
FROM THE HHCC BOARD OF DIRECTORS
All Property Owners in the Hunting Hills neighborhood (consisting of all lots, single family residences, condominium units, townhomes, or patio homes between Starkey Road and US 220 located on, or ultimately connecting to Crossbow Circle or Hunting Hills Drive) who purchase one or more shares of Hunting Hills Community Real Estate, LLC (an "LLC Share"), are deemed to have attached the first such share (the "A Share") to the address or tax map number of their property, making that home a Premium Home. Upon any transfer of a Premium Home, the A Share stays with the property, which means that after completing the Transfer of Share process the new owner will enjoy the benefits of being an LLC Shareholder.
Hunting Hills Community Real Estate, LLC (the "LLC"), was created to purchase the Hunting Hills Country Club ("HHCC") golf course at a time when the Country Club was in peril of losing the course to foreclosure. The LLC now owns the golf course and leases it to Hunting Hills Country Club. This created an enormous benefit to the residents of the Hunting Hills neighborhood by securing green space throughout the neighborhood, limiting the opportunity for developers to turn that green space into more housing thereby creating more congestion and traffic in the neighborhood, and the LLC continues to provide for this protection.
Hunting Hills Community Real Estate, LLC, shareholders enjoy the following additional benefits:
Owner-Dining Membership at Hunting Hills Country Club (no pool, tennis, or golf privileges)

Membership Credit (discount) for Hunting Hills Country Club Social, Tennis, or Golf membership

Use of the golf course cart paths for walking, bicycling, or (for a license and inspection fee) privately-owned golf cart travel

Voting privileges in Hunting Hills Community Real Estate, LLC voting items
Effective January 1, 2023, HHCC will require any Property Owner in the Hunting Hills neighborhood applying for a new membership at HHCC to own or purchase a share of Hunting Hills Community Real Estate, LLC. Also, any person who is not a property owner in the Hunting Hills neighborhood, who is accepted for HHCC membership and purchases a home in the Hunting Hills neighborhood within 2 months of becoming a member, will be required to show evidence of the A Share for that home or purchase an A share for that home; otherwise, the HHCC membership will be terminated. This change does not affect any current HHCC members.
HHCC strongly recommends that listing and selling REALTORS discuss this with their clients when making listing presentations and when making offers on property in the Hunting Hills neighborhood. Premium Homes will be more attractive to buyers who have interest in HHCC amenities. Buyers may wish to require Sellers who do not have an A Share to purchase and convey an A Share as a condition of the offer as that price is subject to change in the future. Current property owners may wish to purchase a share at the current price for the same reason.
As of November 1, 2022, the current LLC Share price is $5,000.00. This price is subject to change at the direction of LLC management. For information about the LLC, to purchase or transfer an LLC Share, please call/email Michael Turner at mmturner1127@gmail.com; (617) 571-1717.
Questions regarding Hunting Hills Country Club may be directed to Sarah Blanchard, General Manager, at Sarah@huntinghillscc.com; (540) 776-4435 Option 6.